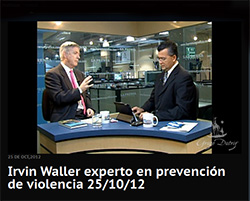 El Salvador presents a special challenge but also opportunity for the World Bank, the private sector and the government to invest in solutions that prevent homicides, reduce loss of investment and provide a model for Latin America.
Strengthening a Central Secretariat – INJUVE in El Salvador
El Salvador has one of the highest rates of homicide in the world.   Its young and disenfranchised men are shooting each other.  Street gangs are rampant.
El Salvador just created a government agency – INJUVE – with responsibility for youth services and violence prevention.  Its governing board brings together (and so can braid the funding of) ministries that can stop the problem such as education, health, police and social inclusion.
INJUVE has rightly started with a diagnosis of the problem, looking at risk factors such as poverty, exclusion, large numbers of youth, and extra-ordinarily high levels of violence (Wim Savenije and María Antonieta Beltrán Prevención en situaciones de alta Inseguridad, INJUVE 2012).  It is able to learn from insights into gangs from the famous expert on the Mara Salvatrucha and 18th Street Gang – Wim Savenije, (Maras y Barras, 2009).  It also engages youth in finding the solutions.
There is no sustained reduction in violence without sustained leadership.  INJUVE could become the responsibility and leadership centre to guide investment in the solutions that will prevent violence.  It must apply the conclusions from its diagnosis and engage mothers and others who feel the loss to provide sustained support for the solutions.
Proven strategies that tackle the causes of violence
In 2012, we have access to a compelling body of knowledge on what has prevented violence, including examples of the application of that knowledge in Latin America, such as Bogotá.
Focus on youth engagement and development
Violence is prevented when more young men feel included and with hope.  Programs must help young men advance their education and job skills, but must be combined with job offerings.  Programs inspired by the youth inclusion programs that were spread across England and Wales provide one important and affordable model, because its adult mentors took time with youth and outreached to convince youth to come into youth centres.  Sports such as soccer and programs teaching life skills must be a part of the process.
2. Focus on parenting and violence prevention for children and women
Action must focus on issues of violence in families and against children, which unfortunately are an often overlooked pre-cursor to youth violence and membership in street gangs.  Programs that support parents to avoid abuse of their children must be one of these, such as the positive parenting program.   But more must be done to enable women to say no to violence, such as the all female stations started in favelas in Brazil.
3. Focus on smart policing – tackling guns, alcohol and gang membership
Two well established but regrettable facilitators of violence are easy access to guns and alcohol.  Bogotá was successful in reducing violence by 50% and sustainably in the 1990´s by focusing on getting youth to exchange guns for soccer boots and get police to enforce regulations to control both.   Street gangs are another part of the challenge that require social prevention solutions, but also clear actions using police smartly to deter persons from gang membership combined with social services that offer a different way of life.
4. Focus on victims and peaceful conflict resolution
The hall mark of spiralling rates of homicide is retaliatory violence – a homicide for a homicide.  So victim assistance workers are needed to outreach to gang members to ¨cool¨ them out as was used in Bogotá – (maybe the same youth workers as mentioned in point 1).  Starting in primary school, it is essential to help youth resolve conflicts and avoid violence against women and children.  One proven youth relationship training program – known as 4th R –  is recognized by the WHO as an important model.
An Opportunity for Smart Investment – in El Salvador
Despite tens of thousands of young men behind bars, law and order has not provided sustained solutions.  Even with the impressive truce in March between two major street gangs, El Salvador was still losing 5 or more young men each day to violence and as a result many millions in foreign investment.
With the losses to the economy, there is a special interest for the private sector to support the shift to investment in prevention.  Also Intergovernmental agencies such as the World Bank Report on Security and Development have concluded that violence prevention would help economic development.  So it is a time for the World Bank and the Inter-american Development Bank to join the government of El Salvador in making the smart investments that will ensure sustained prevention of urban violence but another Latin American model of success.
Footnote:
For further discussion watch a national media interview in Spanish as well as see chapters 2 and 7 -9 in English Less Law, More Order or in Spanish Menos Represión, Mas Seguridad.